Population variation of Rhodnius prolixus (Reduviidae: Triatominae) in Attalea butyracea (Arecaceae) in the Colombian Orinoquia region
Abstract
The objective of this study was to determine the population density of Rhodnius prolixus and its developmental stages in natural forests of Attalea butyracea during a hydrological period in flooded savanna ecosystems of the Colombian Orinoquia region. One hundred twenty (120) palms were sampled over a period of one year using live bait traps for Triatomine bugs. Sampling showed that R. prolixus presents a high population density throughout the year, which increases during periods of low rainfall and decreases during the months of greatest precipitation. It was also found that all developmental stages of R. prolixus are presented throughout the year, although there are differences in their representation; showing decreases in density as developmental stages advance. Additionally, infestation, colonization and clustering were observed. The above suggests that the species presents population stability in A. butyracea forests without regard to climatic period, as well as reproductive success; thus individuals have the capacity to disperse and colonize other microhabitats at any time, regardless of climatic condition.
Authors
Plutarco Urbano

Fundación Universitaria Internacional del Trópico Americano- UNITRÓPICO

Eduwin Hincapié

Fundación Universitaria Internacional del Trópico Americano- UNITRÓPICO

Víctor Manuel Angulo

Universidad Industrial de Santander

Lyda Esteban

Universidad Industrial de Santander

Luís Alberto Núñez-Avellaneda

Universidad de La Salle
Downloads
Download data is not yet available.
Keywords
Bugs
Casanare
palms
natural forests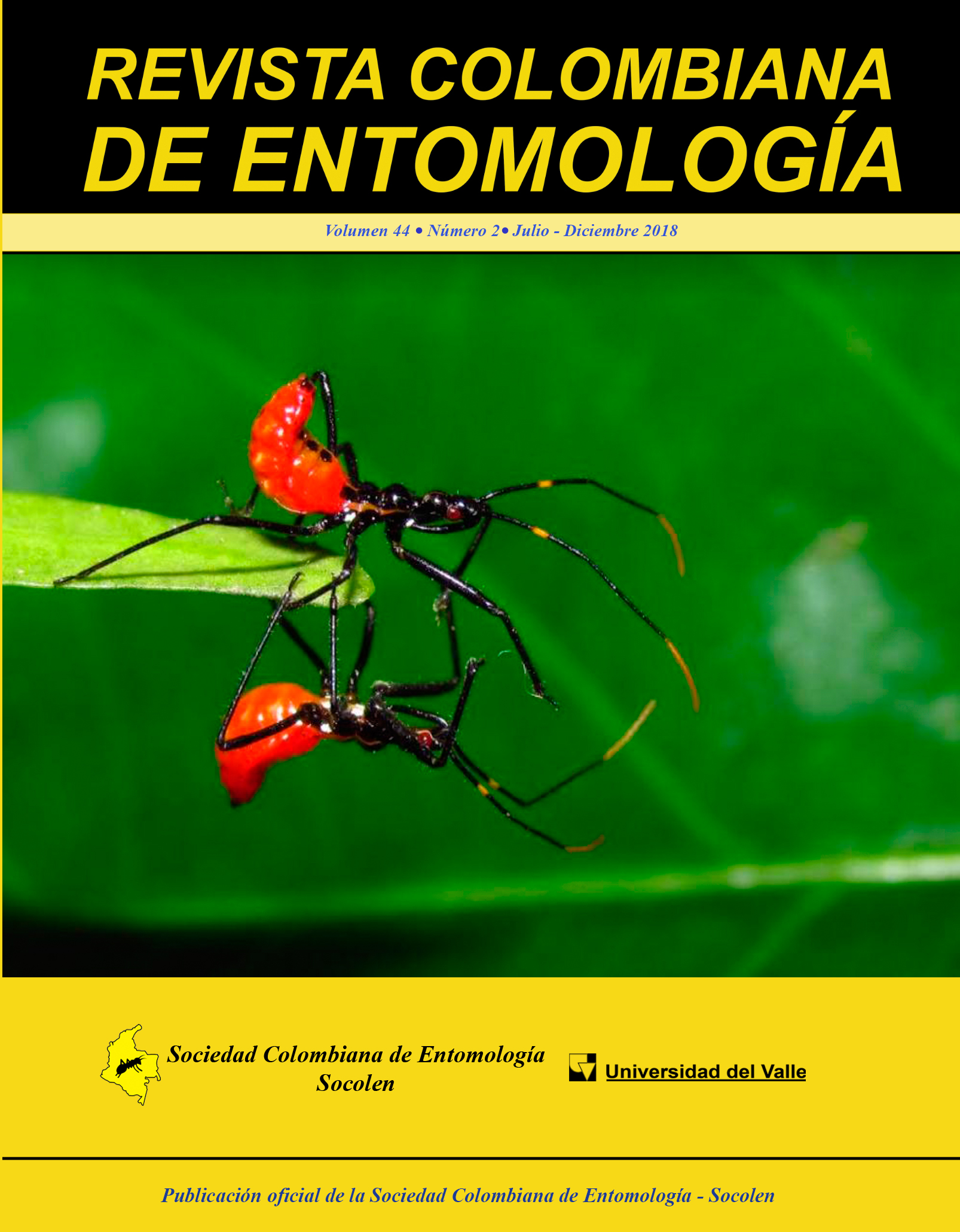 | 130 |
How to Cite
Urbano, P., Hincapié, E., Angulo, V., Esteban, L., & Núñez-Avellaneda, L. (2018). Population variation of Rhodnius prolixus (Reduviidae: Triatominae) in Attalea butyracea (Arecaceae) in the Colombian Orinoquia region. Revista Colombiana De Entomología, 44(2), 211-216. https://doi.org/10.25100/socolen.v44i2.7315
Section
Medical / Research paper
The copyright of the Revista Colombiana de Entomología belongs to the Sociedad Colombiana de Entomología. The Society does not take responsibility or liability for any idea expressed by the authors. No publication, national or foreign, may reproduce or translate the articles or summaries, without the written permission of the publisher. Anyone interested in a free copy of a paper can download it directly from the journal website, request it directly from the author whose address appears on the first page of the article or asking for it to revista.entomologia@univalle.edu.co.