Fruit fly (Diptera: Tephritidae) assemblage in a feijoa orchard in Santa Catarina State, Brazil
Resumen
Fruit flies cause economically important damage on several cultivated and native South American fruit trees. Hence, it is important to understand the population dynamics of these insects. This study aimed to characterize the assemblage and population fluctuations of fruit flies in a feijoa (Acca sellowiana) orchard in Lages, Santa Catarina State, Brazil from September 2009 to May 2012. Captures of flies were made with McPhail traps baited with hydrolyzed protein. Evaluations and bait change were performed weekly. A total of 2,197 flies were captured (957 males and 1,240 females). Analysis of abundance, constancy, dominancy and frequency showed that Anastrepha fraterculus was the main species captured; it was considered to be very frequent, constant and highly dominant throughout the study period. The orchard presented low equitability, low diversity, and high dominance of A. fraterculus during the three fruit seasons evaluated. No correlation was found between climatic factors and population levels of A. fraterculus.
Autores/as
Joatan Machado da Rosa

University of Santa Catarina State (UDESC)

Marcelo Zanelato Nunes

University of Santa Catarina State (UDESC)

Mari Inês Carissimi Boff

University of Santa Catarina State (UDESC)

Flávio Roberto Mello Garcia

Federal University of Pelotas

Pedro Boff

University of Santa Catarina State (UDESC)

Cláudio Roberto Franco

EPAGRI- Lages Experimental Station
Descargas
La descarga de datos todavía no está disponible.
Palabras clave
Insecta
Myrtaceae
diversity
monitoring
faunal index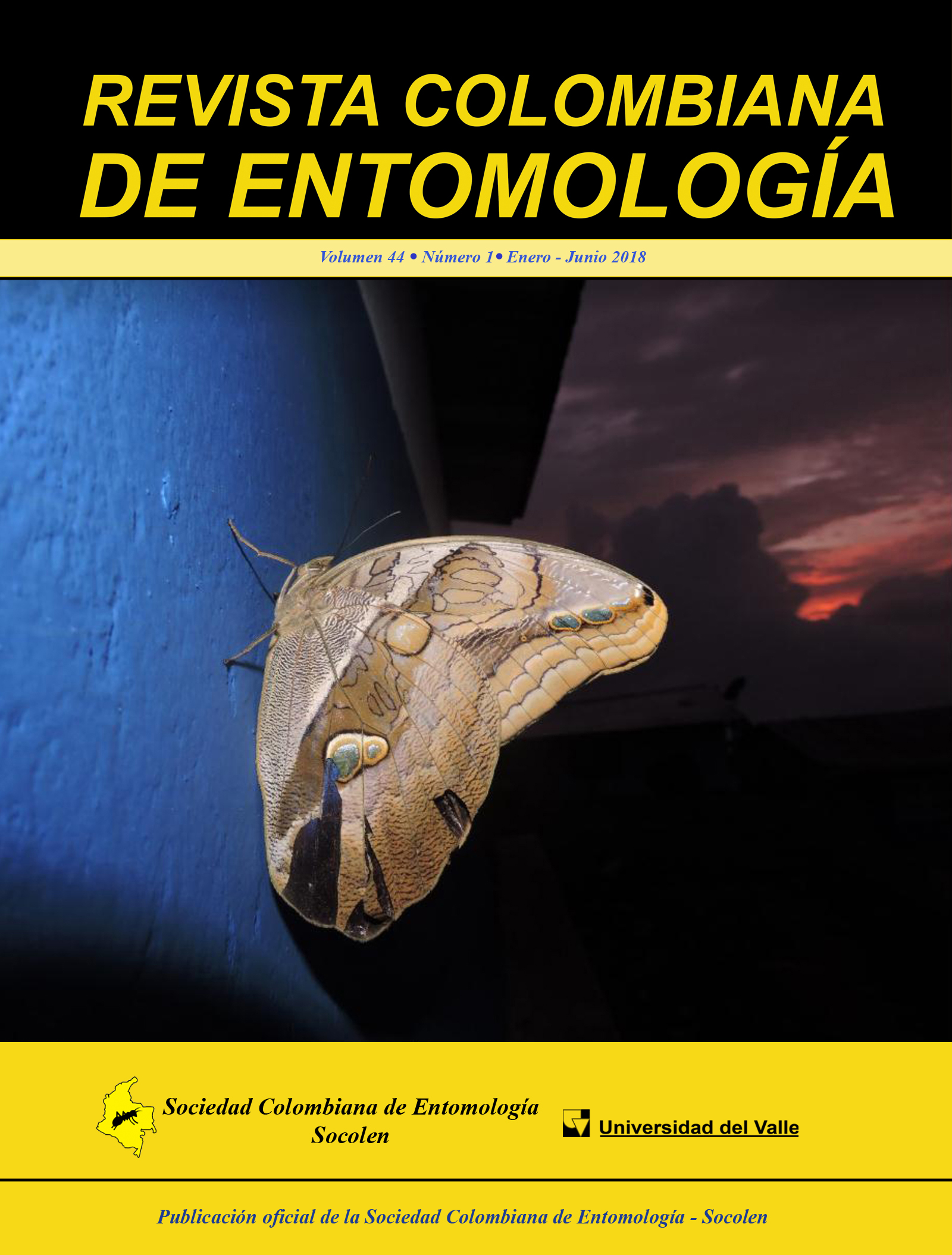 | 54 |
Cómo citar
Machado da Rosa, J., Zanelato Nunes, M., Carissimi Boff, M., Mello Garcia, F., Boff, P., & Franco, C. (2018). Fruit fly (Diptera: Tephritidae) assemblage in a feijoa orchard in Santa Catarina State, Brazil. Revista Colombiana De Entomología, 44(1), 110-115. https://doi.org/10.25100/socolen.v44i1.6547
Sección
Sección Básica / Artículos de investigación
© Los derechos de autor de la Revista Colombiana de Entomología pertenecen a la Sociedad Colombiana de Entomología y la Universidad del Valle. Estas instituciones no se responsabiliza de las ideas emitidas por los autores. Ninguna publicación, nacional o extranjera, podrá reproducir ni traducir los artículos o los resúmenes, sin la previa autorización escrita del editor. La persona interesada en poseer una copia de un artículo puede descargala de la página web de la revista, solicitarla gratuitamente al autor cuya dirección aparece en la primera página del mismo o solicitarla a través de revista.entomologia@univalle.edu.co.