Screening of Brazilian plant extracts as candidates for the control of Spodoptera frugiperda
Resumen
The effects of plant extracts from Actinostemon concolor, Geonoma schottiana, Palicourea rigida and Rudgea viburnoides on Spodoptera frugiperda were evaluated in this study. The extracts were incorporated into an artificial diet (1 mg mL-1 of diet) and offered to S. frugiperda caterpillars. The extract of A. concolor caused 36.1 % mortality in S. frugiperda. Ultrastructural changes were detected in the eggs of adults when the caterpillars were fed with P. rigida and A. concolor extracts. A reduction in trypsin activity was observed after treatment with A. concolor extract. Total phenolics were quantified for A. concolor, G. schottiana, P. rigida and R. viburnoides, with A. concolor presenting the highest content. The residue from methanol/water extraction, which was obtained from the crude extract of A. concolor, contained the phenolic compounds that caused changes in S. frugiperda biology similar to those caused by the crude extract. In conclusion, A. concolor produces secondary metabolites that have insecticidal activity on S. frugiperda
Autores/as
Dejane Santos Alves

Universidade Federal de Lavras (UFLA)

Geraldo Andrade Carvalho

Universidade Federal de Lavras (UFLA)

Denilson Ferreira Oliveira

Universidade Federal de Lavras (UFLA)

Angelita Duarte Corrêa

Universidade Federal de Lavras (UFLA)
Descargas
La descarga de datos todavía no está disponible.
Palabras clave
Fall armyworm
botanical insecticide
trypsin inhibitor
protein digestibility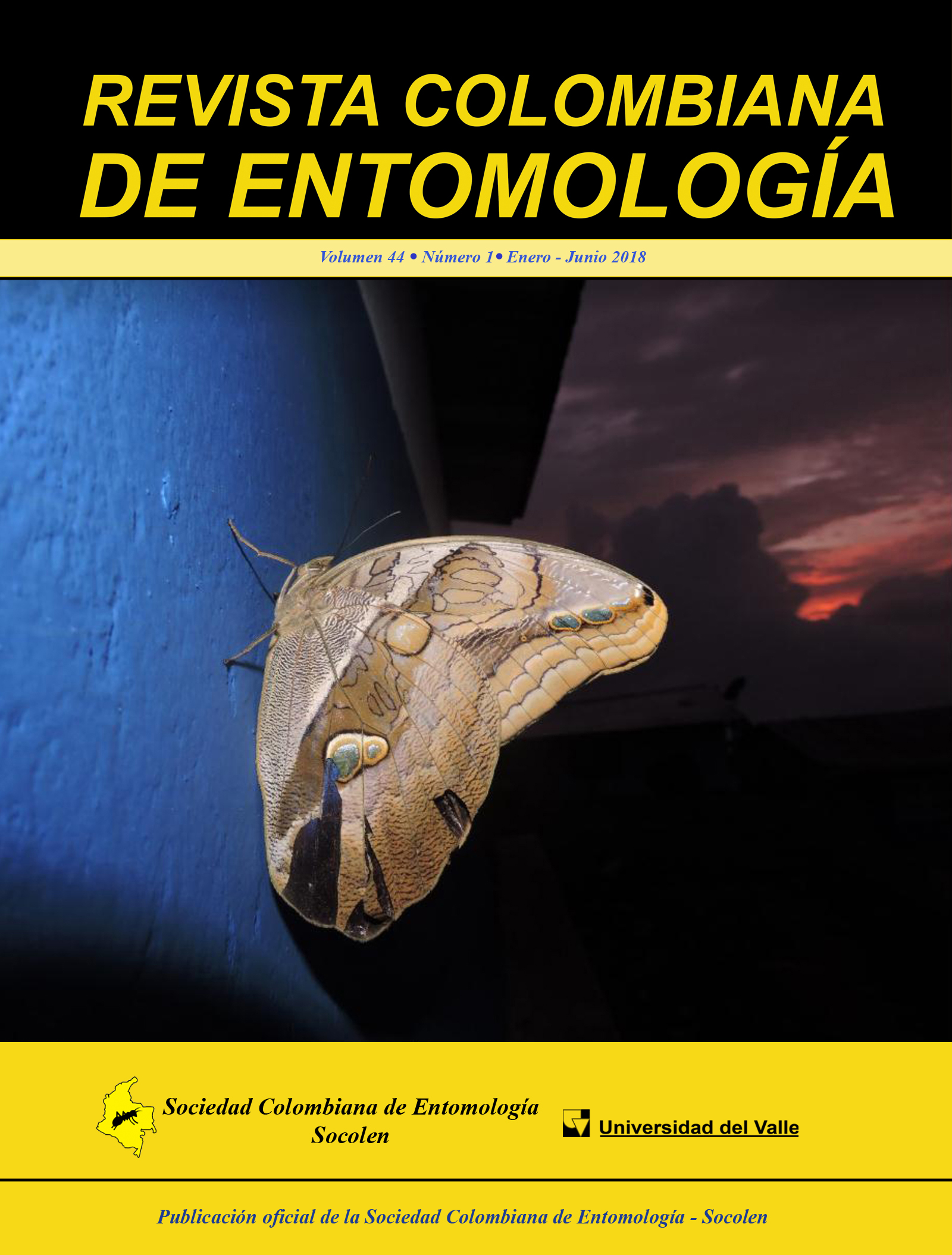 | 27 |
Cómo citar
Santos Alves, D., Andrade Carvalho, G., Ferreira Oliveira, D., & Duarte Corrêa, A. (2018). Screening of Brazilian plant extracts as candidates for the control of Spodoptera frugiperda. Revista Colombiana De Entomología, 44(1), 32-38. https://doi.org/10.25100/socolen.v44i1.6539
Sección
Sección Control / Artículos de investigación
© Los derechos de autor de la Revista Colombiana de Entomología pertenecen a la Sociedad Colombiana de Entomología y la Universidad del Valle. Estas instituciones no se responsabiliza de las ideas emitidas por los autores. Ninguna publicación, nacional o extranjera, podrá reproducir ni traducir los artículos o los resúmenes, sin la previa autorización escrita del editor. La persona interesada en poseer una copia de un artículo puede descargala de la página web de la revista, solicitarla gratuitamente al autor cuya dirección aparece en la primera página del mismo o solicitarla a través de revista.entomologia@univalle.edu.co.