Resistance of common bean (Phaseolus vulgaris) cultivars to Spodoptera frugiperda (Lepidoptera: Noctuidae)
Resumen
Spodoptera frugiperda (Lepidoptera: Noctuidae) damages bean crops, resulting in decreased leaf area and destruction of reproductive structures. This study aimed to evaluate the types and levels of resistance of bean cultivars to S. frugiperda. The bean cultivars evaluated were: BRS Ametista, Pérola, BRS Notável, BRS Realce, Jalo Precoce, BRS Campeiro, BRS Agreste, BRS Cometa, BRS Executivo and BRS Pitanga, in the Laboratory of Agricultural Entomology of the Goiano Federal Institute, Urutaí Campus, Brazil. Tests to identify levels of antixenosis, in free-choice and no-choice tests, and antibiosis were performed in the laboratory (25 ± 2 °C, 70 ± 10 % R. H. and photophase of 14 h). The cultivars BRS Pitanga, BRS Executivo, BRS Notável and BRS Campeiro presented antixenosis and BRS Realce antibiosis to S. frugiperda. However, it is not known whether the levels of resistance exhibited in the laboratory are sufficiently high to be of any economic value to agriculture. Therefore, the next step is to evaluate, under field conditions, the cultivars showing the most resistance in laboratory tests. If field evaluations indicate sufficient levels of resistance to be of practical value, these cultivars may be used as donor sources in the breeding program or may be used directly by farmers.
Autores/as
Lígia Alves de Paiva

Independiente

Wanessa de Carvalho Resende

Independiente

Cinthia Luzia Teixeira Silva

Independiente

André Cirilo de Sousa Almeida

Independiente

Paulo Cesar Ribeiro da Cunha

Instituto Federal Goiano

Flávio Gonçalves de Jesus

Instituto Federal Goiano
Descargas
La descarga de datos todavía no está disponible.
Palabras clave
Fall armyworm
antibiosis
antixenosis
host plant resistance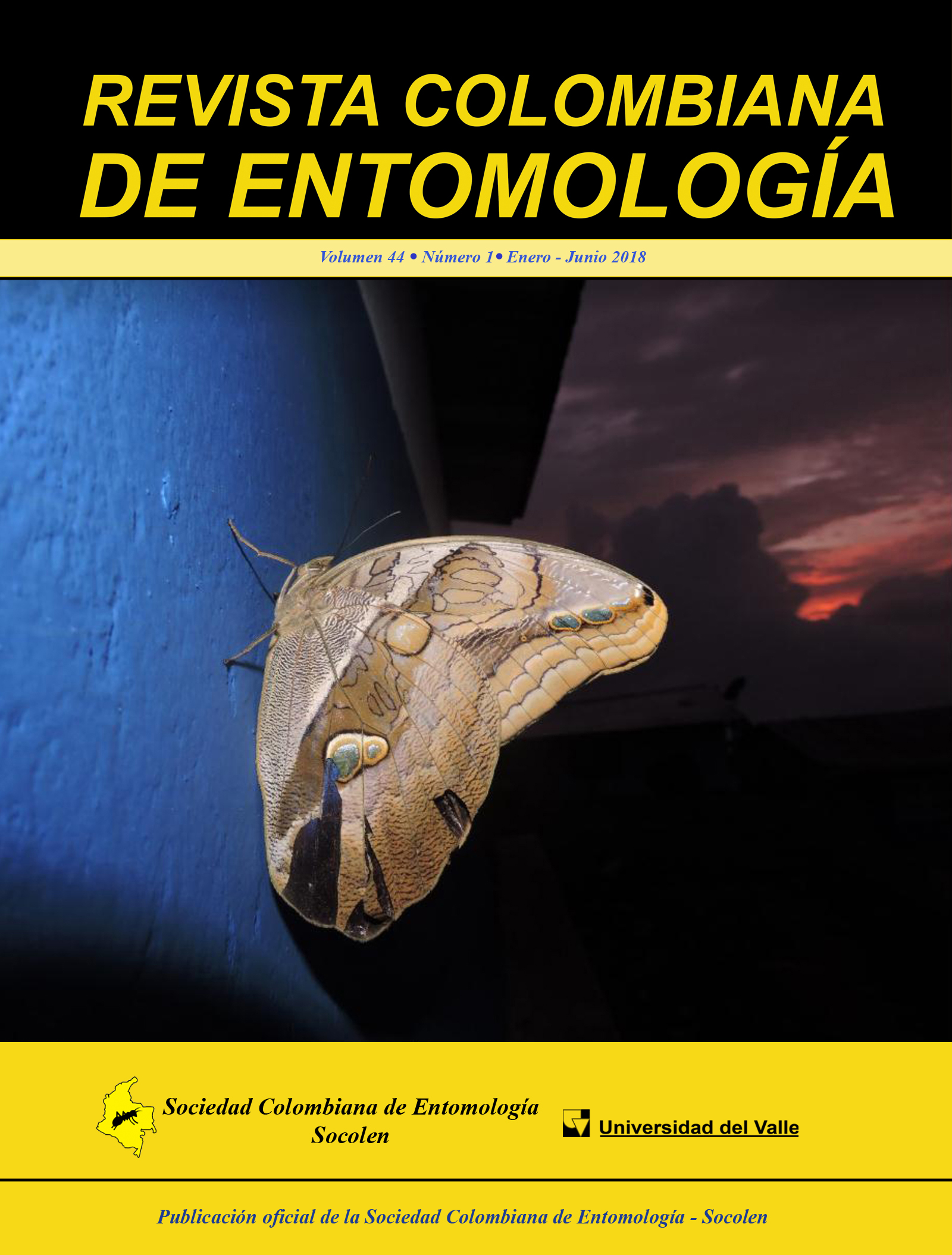 | 9 |
Cómo citar
Alves de Paiva, L., de Carvalho Resende, W., Teixeira Silva, C., de Sousa Almeida, A., Ribeiro da Cunha, P., & Gonçalves de Jesus, F. (2018). Resistance of common bean (Phaseolus vulgaris) cultivars to Spodoptera frugiperda (Lepidoptera: Noctuidae). Revista Colombiana De Entomología, 44(1), 12-18. https://doi.org/10.25100/socolen.v44i1.6531
Sección
Sección Agrícola / Artículos de investigación
© Los derechos de autor de la Revista Colombiana de Entomología pertenecen a la Sociedad Colombiana de Entomología y la Universidad del Valle. Estas instituciones no se responsabiliza de las ideas emitidas por los autores. Ninguna publicación, nacional o extranjera, podrá reproducir ni traducir los artículos o los resúmenes, sin la previa autorización escrita del editor. La persona interesada en poseer una copia de un artículo puede descargala de la página web de la revista, solicitarla gratuitamente al autor cuya dirección aparece en la primera página del mismo o solicitarla a través de revista.entomologia@univalle.edu.co.