Impact of different pineapple mealybug densities in a peanut crop
Resumen
The pineapple mealybug Dysmicoccus brevipes (Hemiptera: Pseudococcidae) is a cosmopolitan and polyphagous species that causes severe damage to peanut crops in many countries around the world. This work was conducted in Campina Grande, Paraíba Sate, Brazil, aiming to assess losses in productivity caused by D. brevipes in a peanut crop. A completely randomized design with five treatments and four replicates was used. Treatments consisted of five mealybug population densities (nymphs and adults) on peanut roots and pods, described as follows: T1 = 0 mealybugs per plant; T2 = 1 to 20 mealybugs per plant; T3 = 21 to 40 mealybugs per plant; T4 = 41 to 80 mealybugs per plant and T5 = more than 80 mealybugs per plant. Roots and pods infested with the pest were observed on 84 % of the peanut plants sampled, ranging from zero to 147.1 individuals per plant. The higher the number of mealybugs per plant, the lower the weight of pod. The mean pod productivities of BR1 peanut cultivars, with the highest and lowest densities of mealybugs per plant were 1,695 and 3,290 kg per ha, respectively. Fields heavily infested with D. brevipes risk significant losses due to the enormous capacity of this organism for causing damage.
Autores/as
Carlos Alberto Domingues da Silva

Empresa Brasileira de Pesquisa Agropecuária (EMBRAPA)

Eduardo Domingos Vasconcelos

Empresa Brasileira de Pesquisa Agropecuária (EMBRAPA)

Raul Porfirio de Almeida

Empresa Brasileira de Pesquisa Agropecuária (EMBRAPA)
Descargas
La descarga de datos todavía no está disponible.
Palabras clave
Arachis hypogaea
insect pest
infestation
yield reduction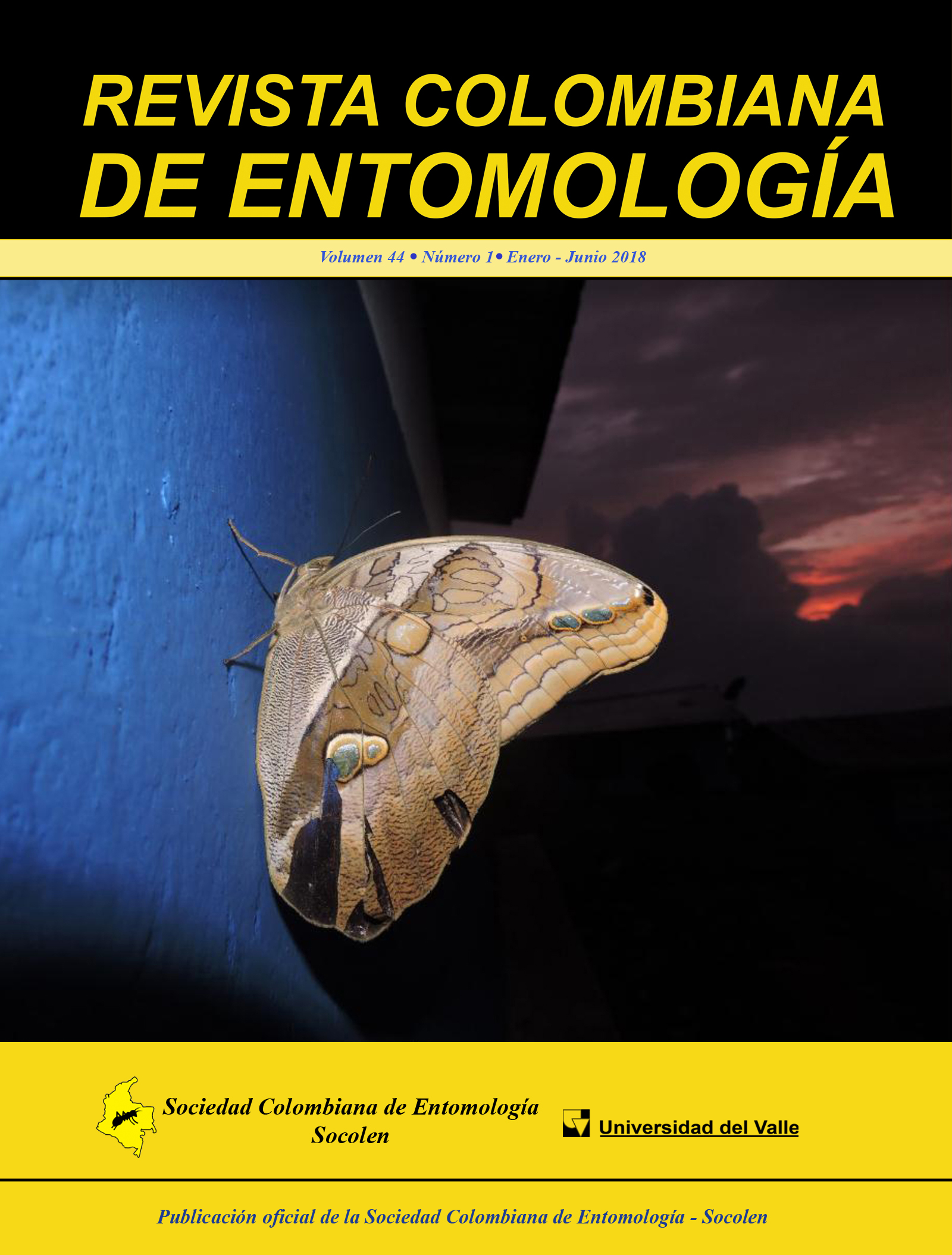 | 3 |
Cómo citar
Domingues da Silva, C., Vasconcelos, E., & de Almeida, R. (2018). Impact of different pineapple mealybug densities in a peanut crop. Revista Colombiana De Entomología, 44(1), 8-11. https://doi.org/10.25100/socolen.v44i1.6529
Sección
Sección Agrícola / Artículos de investigación
© Los derechos de autor de la Revista Colombiana de Entomología pertenecen a la Sociedad Colombiana de Entomología y la Universidad del Valle. Estas instituciones no se responsabiliza de las ideas emitidas por los autores. Ninguna publicación, nacional o extranjera, podrá reproducir ni traducir los artículos o los resúmenes, sin la previa autorización escrita del editor. La persona interesada en poseer una copia de un artículo puede descargala de la página web de la revista, solicitarla gratuitamente al autor cuya dirección aparece en la primera página del mismo o solicitarla a través de revista.entomologia@univalle.edu.co.