Seasonal variation of the epigeal coleopteran diversity in the Laguna Carén (Santiago, Chile)
Abstract
The seasonal variation of epigeal coleopteran diversity and physical-chemical parameters associated to water quality in the Laguna Carén (Santiago, Chile) was evaluated. Different physical-chemical parameters of lagoon water were measured in spring and summer at four random sampling stations, representative of the vegetable coverages. The epigeal coleopterans of the shore were collected by means of interception traps (n = 40), installed at random. It was estimated the abundance and richness of the coleopterans by sampling station and season. In addition, they were separated into trophic guilds: phytophagous, predatory and saprophagous. The differences in abundance and richness were evaluated with nonparametric Kruskal-Wallis tests, followed by Dunn (sampling station) and Mann-Whitney (season) tests. The same statistical procedure was applied to trophic guilds. The ensemble of species of epigeal coleopteran was represented by 19 species (14 natives) from eight families, constitutes the first record of insects in the lagoon. The richness of epigeal coleopteran was significantly higher in spring; while abundance was in summer, concurring with the sampling stations with higher coverages. The availability of food and shelter for epigeal beetles would be influenced mainly by anthropic factors, which lead to a greater degree of fragmentation and alteration of the habitat. The information generated can serve as a basis for future research on bioindicators in vulnerable wetlands in the Mediterranean region.
Authors
Alexandra Alvarado-Orellana

Universidad de Chile

Amanda Huerta-Fuentes

Universidad de Chile

Álvaro Palma-Muñoz

Policía de Investigaciones de Chile (PDI)

Sebastián Rodríguez-Tobar

Pontificia Universidad Católica de Valparaíso
Downloads
Download data is not yet available.
Keywords
Abundance
richness
predators
phytophagous
saprophagous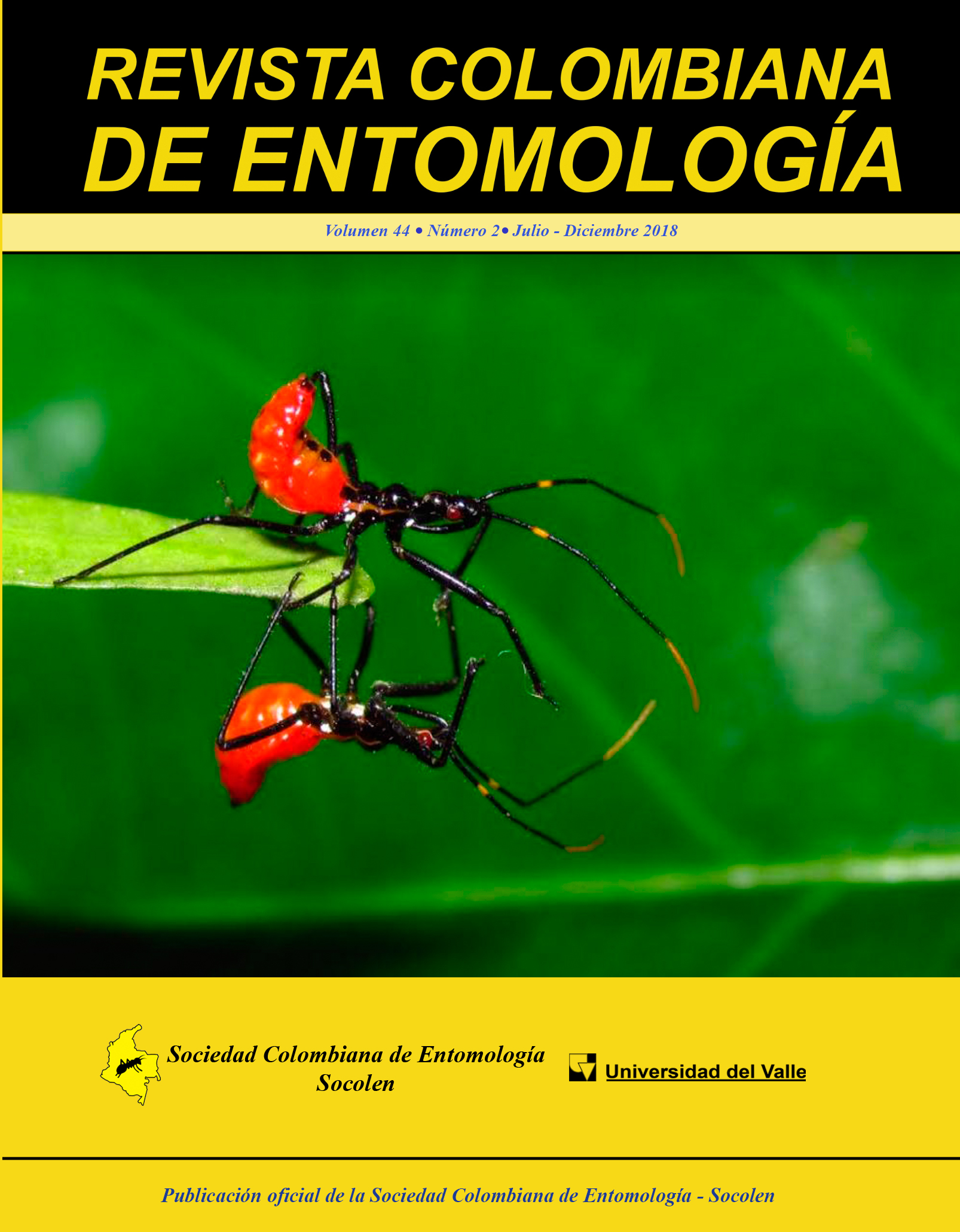 | 103 |
How to Cite
Alvarado-Orellana, A., Huerta-Fuentes, A., Palma-Muñoz, Álvaro, & Rodríguez-Tobar, S. (2018). Seasonal variation of the epigeal coleopteran diversity in the Laguna Carén (Santiago, Chile). Revista Colombiana De Entomología, 44(2), 262-272. https://doi.org/10.25100/socolen.v44i2.7328
Section
Basic / Research paper
The copyright of the Revista Colombiana de Entomología belongs to the Sociedad Colombiana de Entomología. The Society does not take responsibility or liability for any idea expressed by the authors. No publication, national or foreign, may reproduce or translate the articles or summaries, without the written permission of the publisher. Anyone interested in a free copy of a paper can download it directly from the journal website, request it directly from the author whose address appears on the first page of the article or asking for it to revista.entomologia@univalle.edu.co.