Variabilidad genética en poblaciones de Aegorhinus superciliosus (Coleoptera: Curculionidae), en Maytenus boaria (Celastrales: Celastraceae) de Chile
Abstract
El cabrito del frambueso (Aegorhinus superciliosus), es un curculiónido nativo de Chile y parte de Argentina. En Chile, habita la zona centro-sur y es considerado una plaga importante, ya que afecta a las plantaciones de frutales arbustivos de avellano europeo (Corylus avellana) y arándano (Vaccinium corymbosum), causando cuantiosos daños económicos a la industria frutícola de la zona. El objetivo de este estudio fue analizar la variabilidad genética de las poblaciones de A. superciliosus asociadas a Maytenus boaria. Ejemplares adultos de A. superciliosus fueron recolectados en las poblaciones de Máfil, Futrono, La Unión y Frutillar. Su clasificación y almacenamiento se realizó en el Laboratorio de Investigación en Biotecnología Animal (LINBA) de la Universidad de La Frontera, Temuco, Chile. El análisis molecular se realizó mediante Marcadores Intermicrosatelitales (ISSR). Los resultados arrojaron una alta similitud génica entre todas las poblaciones de estudio. Se observó una correlación positiva entre la variabilidad genética y la distribución geográfica. Las poblaciones distribuidas más al sur (Futrono- La Unión- Frutillar) presentaron entre si una elevada similitud génica, situación asociada a la abundante presencia de M. boaria el cual permite el flujo génico a lo largo del territorio donde se realizó el estudio. El bajo nivel de variabilidad genética en las poblaciones de A. superciliosus del sur de Chile, está probablemente asociado al gran número de huéspedes encontrados en los ecosistemas agrícolas y forestales, que tienen la capacidad de colonizar grandes áreas en esta zona del país. Estas condiciones contribuyen a incrementar el flujo génico de A. superciliosus, transformando a este insecto en la mayor y más peligrosa plaga de arándanos en Chile.
Authors
Luis Huala

Universidad de La Frontera

Marco Paredes

Universidad de La Frontera

Luis Salazar

Universidad de La Frontera

Mario Elgueta

Museo Nacional de Historia Natural

Ramón Rebolledo

Universidad de La Frontera
Downloads
Download data is not yet available.
Keywords
Cabrito del frambueso
marcadores ISSR
flujo génico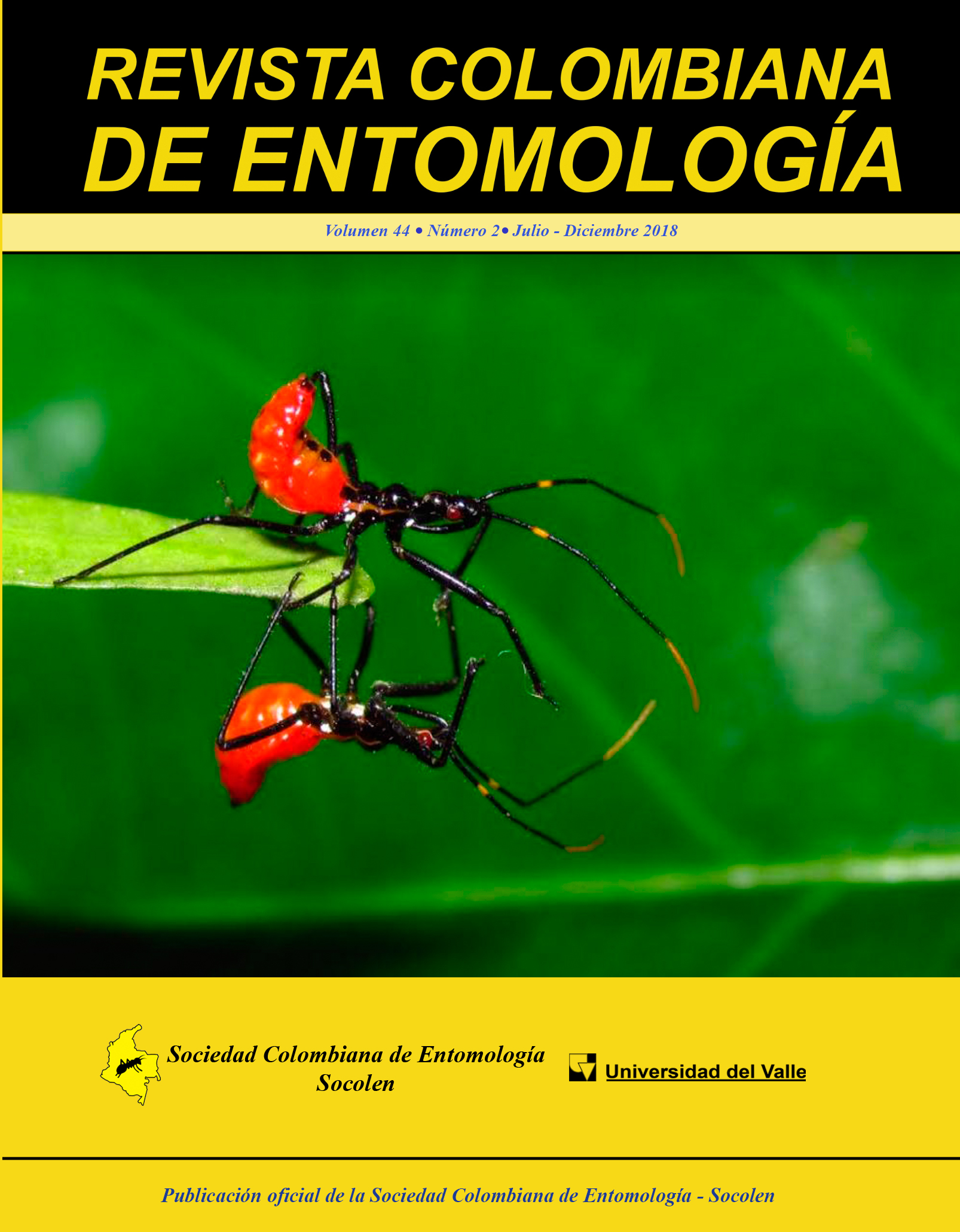 | 86 |
How to Cite
Huala, L., Paredes, M., Salazar, L., Elgueta, M., & Rebolledo, R. (2018). Variabilidad genética en poblaciones de Aegorhinus superciliosus (Coleoptera: Curculionidae), en Maytenus boaria (Celastrales: Celastraceae) de Chile. Revista Colombiana De Entomología, 44(2), 260-265. https://doi.org/10.25100/socolen.v44i2.7327
Section
Basic / Research paper
The copyright of the Revista Colombiana de Entomología belongs to the Sociedad Colombiana de Entomología. The Society does not take responsibility or liability for any idea expressed by the authors. No publication, national or foreign, may reproduce or translate the articles or summaries, without the written permission of the publisher. Anyone interested in a free copy of a paper can download it directly from the journal website, request it directly from the author whose address appears on the first page of the article or asking for it to revista.entomologia@univalle.edu.co.