Effect of different temperatures and cold storage on pupae of Apanteles gelechiidivoris (Hymenoptera: Braconidae)
Abstract
Apanteles gelechiidivoris, a parasitoid of the third stage of Tuta absoluta larvae, can generate up to 80 % larval mortality in the field. In order to mass-produce this parasitoid, it is necessary to have cold storage of pupae in order to conserve significant quantities without losing biological characteristics. Different temperatures and cold storage times were evaluated using biological parameters in pupal and adult stages. The pupae were exposed to 4, 8 and 12 °C for 7, 14, 21 and 28 days of storage. At 4 and 8 °C, the emergence time was delayed after cold storage, being shorter by seven days at each temperature. Adult emergence was lower, at 4 °C, and decreased significantly as storage days increased. At 8 and 12 °C, emergence percentages of 90 and 100 percent were reported, respectively, after seven days of storage. Temperature and days of storage had no effect on the number of females produced (P > 0.05). Adult lifespan decreased with increasing days of cold storage. At 8 °C, the longest adult lifespan (9 days) was observed at 7 and 14 days of storage. At 4 °C, the parasitism of females that emerged from pupae on the storage days evaluated was affected; at 8 °C, the highest parasitism percentage (80 %) was obtained at 7 days of storage. The results suggest that pupae can be stored up to 14 days at 8 °C, without affecting the effectiveness of the parasitoid.
Authors
Jessica Andrea Morales-Perdomo

Corporación Universitaria Minuto de Dios

Daniel Rodríguez-Caicedo

Universidad Militar Nueva Granada - Colombia

Fernando Cantor-Rincón

Universidad Militar Nueva Granada - Colombia
Downloads
Download data is not yet available.
Keywords
Biological control
massive rearing
quality control
cold storage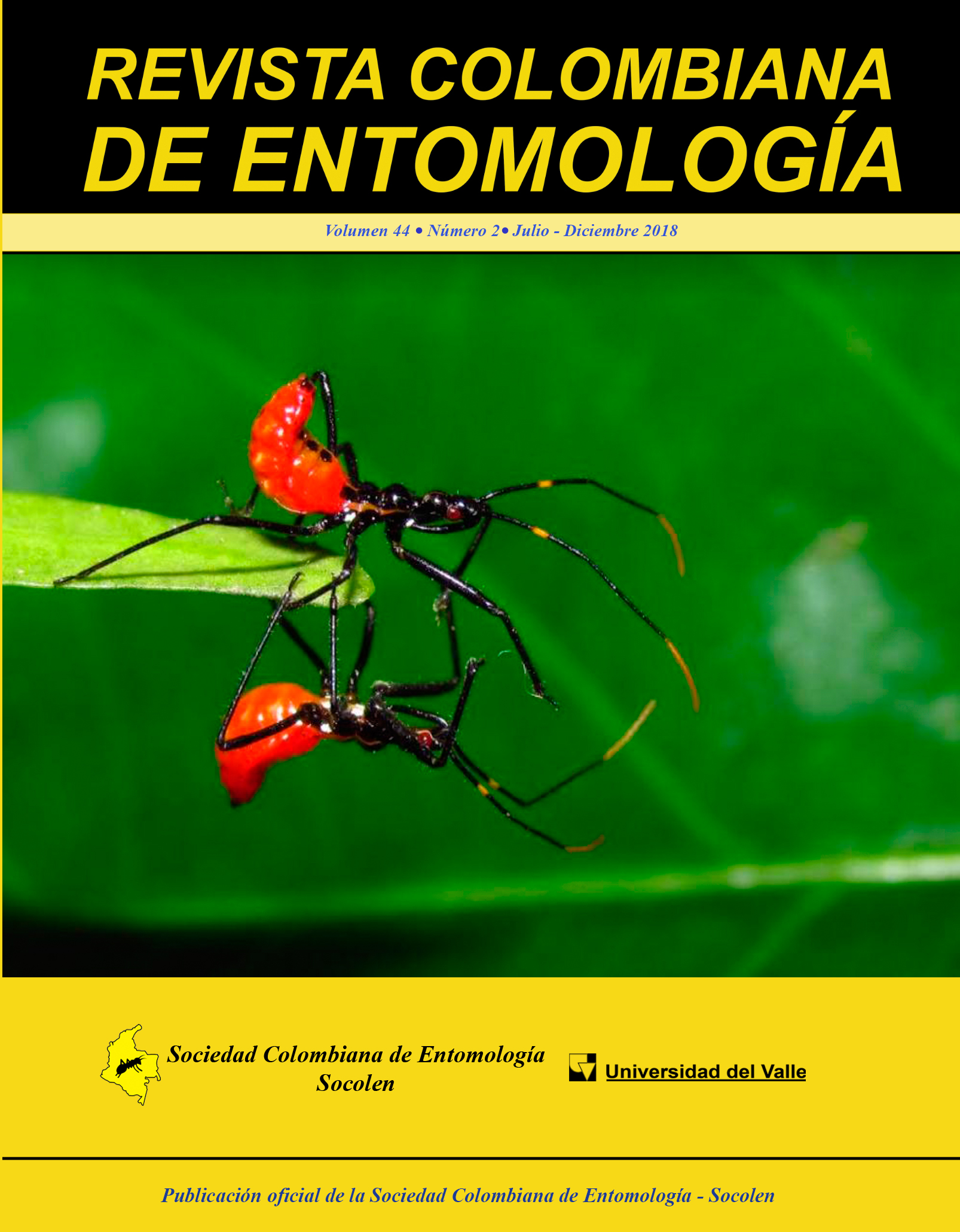 | 97 |
How to Cite
Morales-Perdomo, J., Rodríguez-Caicedo, D., & Cantor-Rincón, F. (2018). Effect of different temperatures and cold storage on pupae of Apanteles gelechiidivoris (Hymenoptera: Braconidae). Revista Colombiana De Entomología, 44(2), 217-222. https://doi.org/10.25100/socolen.v44i2.7323
Section
Basic / Research paper
The copyright of the Revista Colombiana de Entomología belongs to the Sociedad Colombiana de Entomología. The Society does not take responsibility or liability for any idea expressed by the authors. No publication, national or foreign, may reproduce or translate the articles or summaries, without the written permission of the publisher. Anyone interested in a free copy of a paper can download it directly from the journal website, request it directly from the author whose address appears on the first page of the article or asking for it to revista.entomologia@univalle.edu.co.