Predatory capacity of Cathartus quadricollis and Ahasverus advena (Coleoptera: Silvanidae) on Hypothenemus hampei (Coleoptera: Curculionidae) under laboratory conditions
Abstract
The coffee berry borer (CBB) causes economic damage and quality deterioration of coffee. CBB reproduces inside the fruit that remain after harvesting. In Colombia, native predators have been reported attacking this pest, among them the coleopterans Ahasverus advena and Cathartus quadricollis. This study, which was carried out under lab conditions at Cenicafé, was evaluated the predation of these species on CBB. Adults and larvae of the two predator species were released in ratios of 1, 3 and 5 per infested coffee bean (the treatments) in four independent bioassays. The decrease in CBB populations inside the beans after establishing treatments (the response variables) was determined. The Experimental Units consisted of 10 infested coffee grains observed over 18 days with three infesting holes inside a glass container where the four treatments were applied under a completely randomized design with ten replicates. An absolute control without predators was used for each bioassay. A. advena adults and larvae significantly decreased CBB up to 63.2 % and 42.3 % with respect to the control, presenting a higher predation capacity when three predators per grain were released. In addition, C. quadricollis decreased CBB population up to 46.2 % and 69 % when three adults and five larvae per grain were released, respectively.
Authors
Laura A. Laiton J.

Centro Nacional de Investigaciones de Café- Cenicafé

Luis Miguel Constantino

Centro Nacional de Investigaciones de Café- Cenicafé

Pablo Benavides

Centro Nacional de Investigaciones de Café- Cenicafé
Downloads
Download data is not yet available.
Keywords
Biological control
augmentation
predation
coffee quality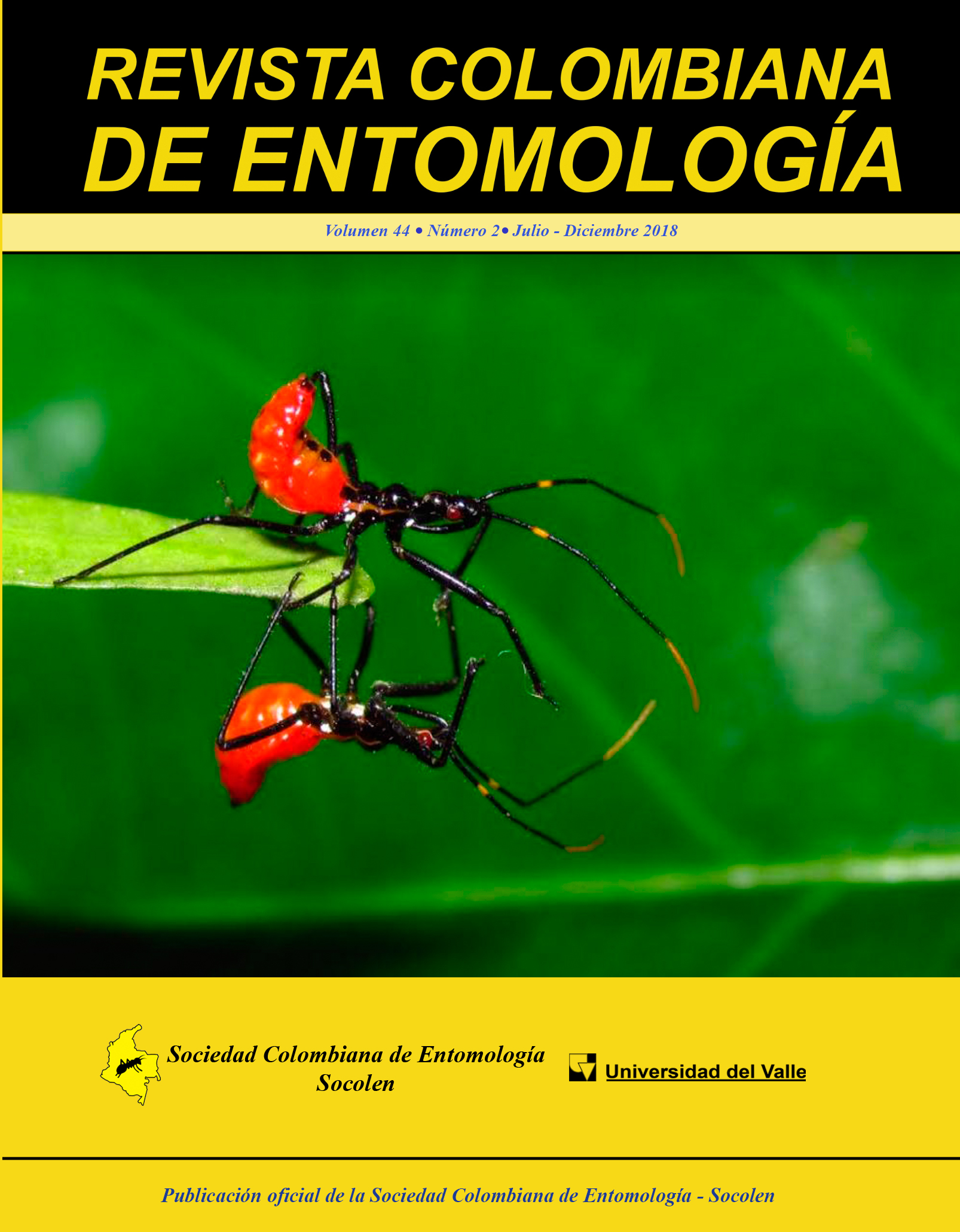 | 127 |
How to Cite
Laiton J., L., Constantino, L., & Benavides, P. (2018). Predatory capacity of Cathartus quadricollis and Ahasverus advena (Coleoptera: Silvanidae) on Hypothenemus hampei (Coleoptera: Curculionidae) under laboratory conditions. Revista Colombiana De Entomología, 44(2), 200-205. https://doi.org/10.25100/socolen.v44i2.7319
Section
Control / Research paper
The copyright of the Revista Colombiana de Entomología belongs to the Sociedad Colombiana de Entomología. The Society does not take responsibility or liability for any idea expressed by the authors. No publication, national or foreign, may reproduce or translate the articles or summaries, without the written permission of the publisher. Anyone interested in a free copy of a paper can download it directly from the journal website, request it directly from the author whose address appears on the first page of the article or asking for it to revista.entomologia@univalle.edu.co.