Método de cría de Bemisia tuberculata (Hemiptera: Aleyrodidae) para estudios en yuca
Abstract
El objetivo de este estudio fue desarrollar un método de cría de Bemisia tuberculata en plantas de yuca para la producción y el mantenimiento continuo de una colonia. La población inicial de B. tuberculata se obtuvo a partir de hojas recogidas de la planta con alta infestación de ninfas. Los adultos obtenidos fueron transferidos de la taza de plástico para jaulas de tul, en diferentes densidades. La densidad de 125 adultos de B. tuberculata por hojas fue el más adecuado para la cría. El método que se propone en este estudio ha demostrado ser eficaz y se recomienda, ya que el nivel de la población se mantuvo estable durante los experimentos.
Authors
Diandro Ricardo Barilli

Universidade Estadual Paulista "Júlio de Mesquita Filho"

Ana Paula Gonçalves Da Silva Wengrat

Universidade Estadual do Oeste do Paraná

Daliana Hisako Uemura-Lima

Universidade Estadual do Oeste do Paraná

Vanda Pietrowski

Universidade Estadual do Oeste do Paraná

Rudiney Ringenberg

Embrapa Mandioca e Fruticultura

Mauro Silveira Garcia

Universidade Federal de Pelotas
Downloads
Download data is not yet available.
Keywords
Manihot esculenta
mosca blanca
laboratorio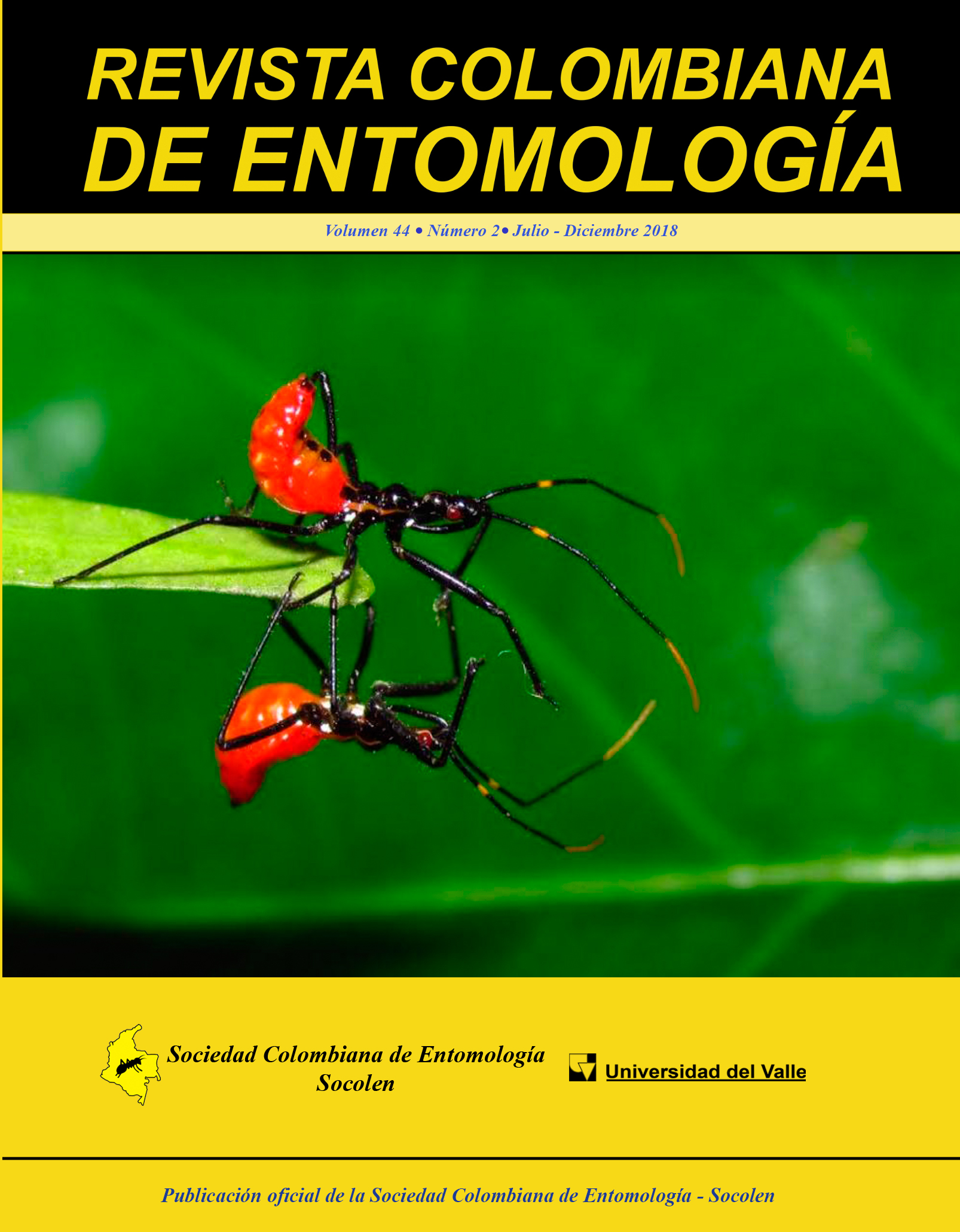 | 79 |
How to Cite
Barilli, D., Gonçalves Da Silva Wengrat, A., Uemura-Lima, D., Pietrowski, V., Ringenberg, R., & Silveira Garcia, M. (2018). Método de cría de Bemisia tuberculata (Hemiptera: Aleyrodidae) para estudios en yuca. Revista Colombiana De Entomología, 44(2), 197-199. https://doi.org/10.25100/socolen.v44i2.7318
Section
Agriculture / Scientific notes
The copyright of the Revista Colombiana de Entomología belongs to the Sociedad Colombiana de Entomología. The Society does not take responsibility or liability for any idea expressed by the authors. No publication, national or foreign, may reproduce or translate the articles or summaries, without the written permission of the publisher. Anyone interested in a free copy of a paper can download it directly from the journal website, request it directly from the author whose address appears on the first page of the article or asking for it to revista.entomologia@univalle.edu.co.