New mealybugs (Hemiptera: Pseudococcidae) and host plants for Sancti Spíritus Province, Cuba
Abstract
The aim of this paper is to provide information regarding a new registry of mealybugs and host plants in the Sancti Spíritus province of Cuba between 2005-2015. In this time period, 10 genera and 21 species of mealybugs were found (16 new records) in the ecosystems of the area studied by the Fomento Territorial Plant Protection Station. These new registries were found on 130 host plants species (40 previously unrecorded for Cuba), from 57 botanical families. This represents a notable increase in the number of genera and species of mealybugs present, as well as in the number of host plants, many of which were previously unreported in Cuba.
Authors
Raúl Mirabal-Rodríguez

Estación Territorial de Sanidad Vegetal (ETPP)

Marcos Tulio García-González

Universidad de Sancti Spíritus José Martí Pérez

Leónides Castellanos-González

Universidad de Pamplona

Yander Fernández-Cancio

Universidad de Sancti Spíritus José Martí Pérez

Nancy Pérez-Reyes

Estación Territorial de Sanidad Vegetal (ETPP) Fomento
Downloads
Download data is not yet available.
Keywords
Entomology
insects
cochineals
diversity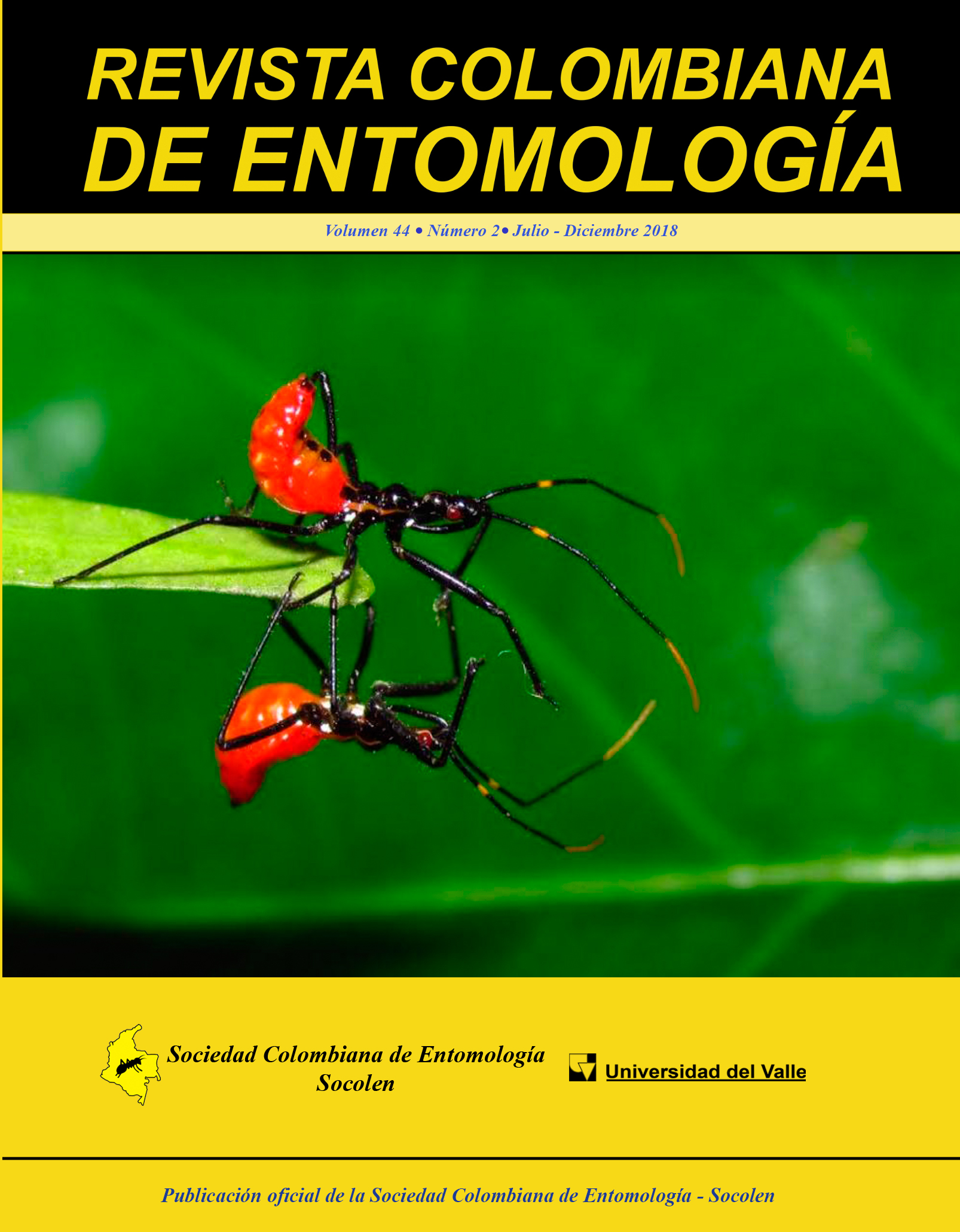 | 109 |
How to Cite
Mirabal-Rodríguez, R., García-González, M., Castellanos-González, L., Fernández-Cancio, Y., & Pérez-Reyes, N. (2018). New mealybugs (Hemiptera: Pseudococcidae) and host plants for Sancti Spíritus Province, Cuba. Revista Colombiana De Entomología, 44(2), 193-196. https://doi.org/10.25100/socolen.v44i2.7317
Section
Agriculture / Scientific notes
The copyright of the Revista Colombiana de Entomología belongs to the Sociedad Colombiana de Entomología. The Society does not take responsibility or liability for any idea expressed by the authors. No publication, national or foreign, may reproduce or translate the articles or summaries, without the written permission of the publisher. Anyone interested in a free copy of a paper can download it directly from the journal website, request it directly from the author whose address appears on the first page of the article or asking for it to revista.entomologia@univalle.edu.co.