Virulence of blastospores of Isaria fumosorosea natives of northeastern Mexico on Anastrepha ludens (Diptera: Tephritidae)
Abstract
Anastrepha ludens is one of the pests that seriously affects fruit production in Mexico and other Neotropical countries. The aim of this study was to evaluate the virulence and effects of four native isolates and a collected strain of Isaria fumosorosea on the metamorphosis of A. ludens through the use of bioassays under laboratory conditions [25 ± 2 °C; 60 ± 5 % (HR); 12:12 h (L: O)]. Larvae and pupae were exposed to 1 × 108 blastospores/ ml using two different methods: direct spraying and spraying of soil. The isolates HIB-23 and HIB-30 showed the highest mortality on A. ludens when applied using the direct spraying method on larvae (84 %), while the isolate HIB-19 showed the highest percentage of interruption of the metamorphosis (43 %) of A. ludens when applied through the method of direct spraying on pupae. The results show that A. ludens is susceptible to the attack of I. fumosorosea, which causes the disruption of its life cycle.
Authors
Fatima Lizeth Gandarilla-Pacheco

Universidad Autónoma de Nuevo León

Myriam Elías-Santos

Universidad Autónoma de Nuevo León

María Del Socorro Flores-González

Universidad Autónoma de Nuevo León

Erick De Jesús De Luna-Santillana

Instituto Politécnico Nacional

Isela Quintero-Zapata

Universidad Autónoma de Nuevo León
Downloads
Download data is not yet available.
Keywords
Bioassays
Larvae
Metamorphosis
Mexican fruit fly
Pupae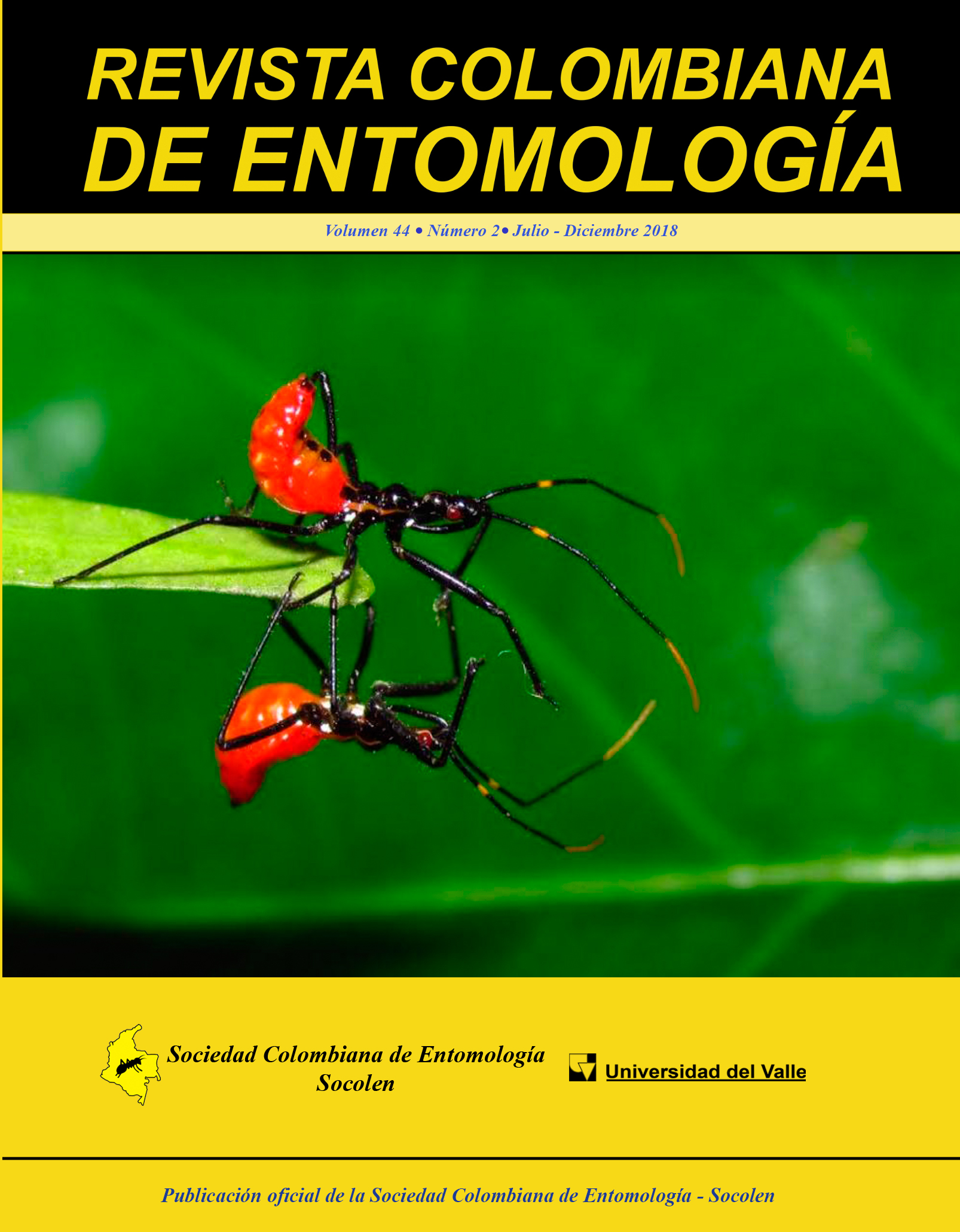 | 94 |
How to Cite
Gandarilla-Pacheco, F., Elías-Santos, M., Flores-González, M., De Luna-Santillana, E., & Quintero-Zapata, I. (2018). Virulence of blastospores of Isaria fumosorosea natives of northeastern Mexico on Anastrepha ludens (Diptera: Tephritidae). Revista Colombiana De Entomología, 44(2), 187-192. https://doi.org/10.25100/socolen.v44i2.7316
Section
Agriculture / Research paper
The copyright of the Revista Colombiana de Entomología belongs to the Sociedad Colombiana de Entomología. The Society does not take responsibility or liability for any idea expressed by the authors. No publication, national or foreign, may reproduce or translate the articles or summaries, without the written permission of the publisher. Anyone interested in a free copy of a paper can download it directly from the journal website, request it directly from the author whose address appears on the first page of the article or asking for it to revista.entomologia@univalle.edu.co.