Plantas hospedantes de Toumeyella coffeae y Puto barberi (Hemiptera) en agroecosistemas cafeteros de Norte de Santander, Colombia
Abstract
Puto barberi (Hemiptera: Putoidae) and Toumeyella coffeae (Hemiptera: Coccidae) are the most limiting species in the establishment of coffee crops in Norte de Santander, Colombia. In order to identify the host plants of the above pest species, farms with coffee crops from previously reported infested coffee areas were randomly selected. On each farm, transects were traced and weeds were pulled in order to record the number of plants present per morphospecies and the presence of P. barberi and T. Coffeae on each one. For weed identification, two plants per morphospecies were preserved and the insects found were stored in 76 % ethanol. Eighty-five transects were sampled, producing 6,880 plants belonging to 22 families, 37 genera and 38 species for evaluation. P. barberi was recorded on 20 of the 38 plant species found, and predominated on Eirmocephala brachiata, Sida rhombifolia, Conyza bonariensis, Amaranthus hybridus, Leonurus japonicus and Emilia sonchifolia; with values ranging between 14 % and 30 %. Toumeyella coffeae was recorded on nine species, with Erato vulcanica (11.43 %), Leucaena leucocephala (11. 11 %) and Emilia sonchifolia (8.87 %) being the most frequent hosts. Taking into account the most common botanical species found in the coffee areas of Norte de Santander, as well as the most frequent plants hosting both insect pests in the field, it was concluded that S. rhombifolia, E.sonchifolia, and C. bonariensis contained the highest populations of P. barberi and T. coffeae. This study provides a basis for the design and evaluation of cultural and agroecological control strategies for P. barberi and T. coffeae.
Authors
Liseth Suárez-P.

Comité departamental de Cafeteros de Norte de Santander

Zulma Nancy Gil-P

Centro Nacional de Investigaciones de Café- Cenicafé

Pablo Benavides-Machado

Centro Nacional de Investigaciones de Café- Cenicafé

Diego A. Carrero

Universidad de Pamplona

Luis Roberto Sánchez

Universidad de Pamplona
Downloads
Download data is not yet available.
Keywords
Weeds
coffee
Coccoidea
Giant mealybugs
soft scale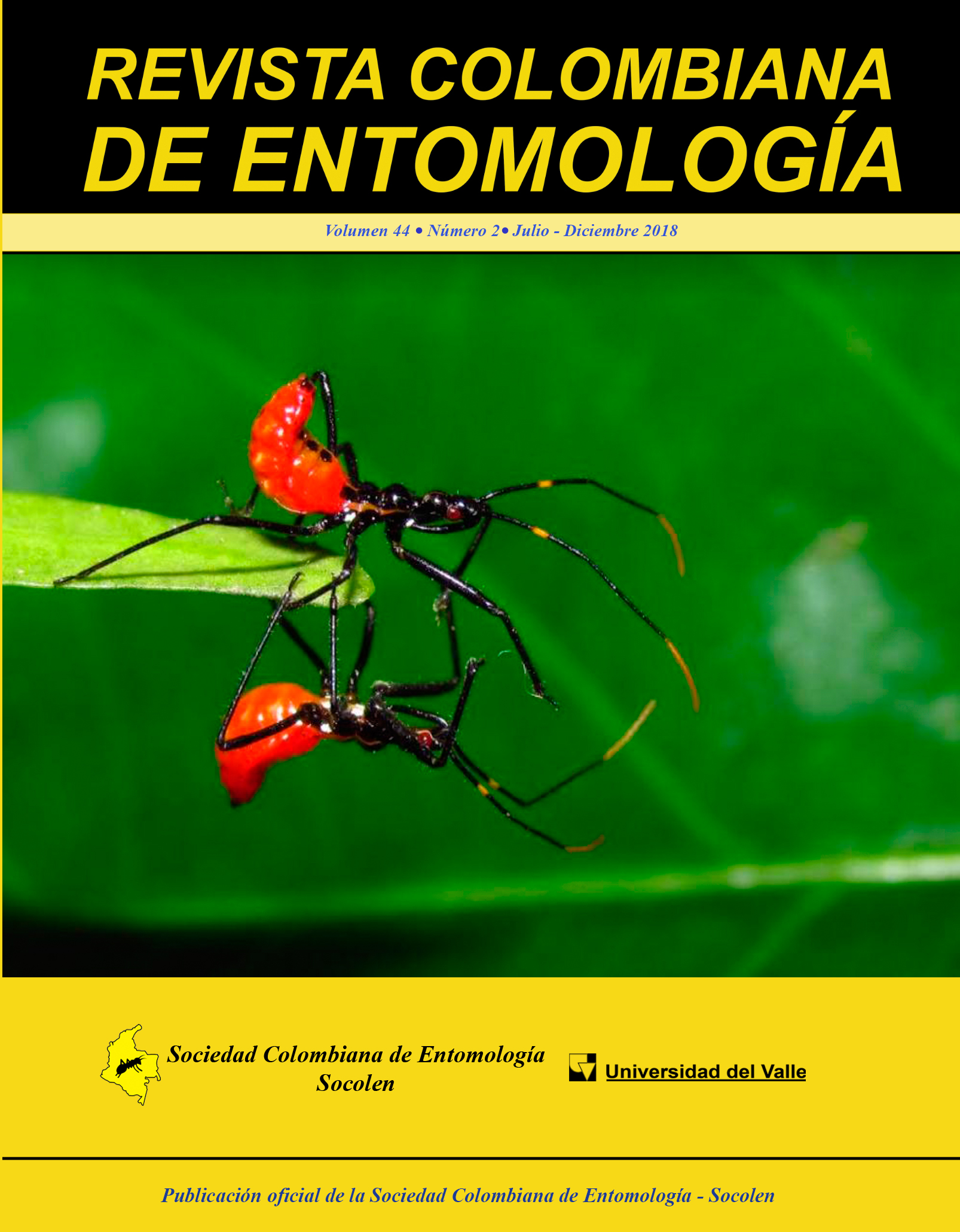 | 98 |
How to Cite
Suárez-P., L., Gil-P, Z., Benavides-Machado, P., Carrero, D., & Sánchez, L. (2018). Plantas hospedantes de Toumeyella coffeae y Puto barberi (Hemiptera) en agroecosistemas cafeteros de Norte de Santander, Colombia. Revista Colombiana De Entomología, 44(2), 172-176. https://doi.org/10.25100/socolen.v44i2.7314
Section
Agriculture / Research paper
The copyright of the Revista Colombiana de Entomología belongs to the Sociedad Colombiana de Entomología. The Society does not take responsibility or liability for any idea expressed by the authors. No publication, national or foreign, may reproduce or translate the articles or summaries, without the written permission of the publisher. Anyone interested in a free copy of a paper can download it directly from the journal website, request it directly from the author whose address appears on the first page of the article or asking for it to revista.entomologia@univalle.edu.co.