Preferences of thrips (Thysanoptera) for the aerial structures of cotton plants (Gossypium hirsutum) in Colombia
Abstract
The aim of this study was to determine the preference levels of species of thrips for aerial structures of cotton plants. To accomplish this, samples of associated thrips species to cotton crop were collected and identified in warm weather valleys of the high Magdalena, in the Andean region of Colombia, A total of 60 cotton producing farms were sampled during the capsule filling phase in which the cotton plants presented young leaf, flower bud, flower and capsule microhabitats. The Bray-Curtis Cluster analysis and the Kruskall-Wallis non-parametric test were utilized. The thrips species found were: Thrips palmi, Scirtothrips dorsalis, and Frankliniella cephalica. T. palmi was the most frequent (n = 3595; µ = 14.97 ± 32.35), while S. dorsalis (n = 856; μ = 3.56 ± 6.35) and Fr. cephalica (n = 405; μ = 1.68 ± 9.13) were found in lower numbers. Thrips palmi was found in all four micro-habitats, while S. dorsalis preferred capsules, followed by leaves and floral buds. Frankliniella cephalica showed preference for flowers. The present study revealed the phytophagous action of T. palmi and S. dorsalis as insects with intra-host generalist behavior, with preferences for leaves (phyllophagous), flower buds (anthophagous) and capsules (carpophagous). Frankliniella cephalica acted as a specialist, with a preference for the flowers (anthophagous) of the cotton plant.
Authors
Camilo Ignacio Jaramillo-Barrios

Corporación Colombiana de Investigación Agropecuaria-Agrosavia

Andrés Rodríguez

Universidad del Tolima

Edgar Varón-Devia

Corporación Colombiana de Investigación Agropecuaria-Agrosavia

Buenaventura Monje-Andrade

Corporación Colombiana de Investigación Agropecuaria-Agrosavia

Everth Ebratt-Ravelo

Universidad Nacional de Colombia
Downloads
Download data is not yet available.
Keywords
Hosts
thrips
phytophagous
Malvaceae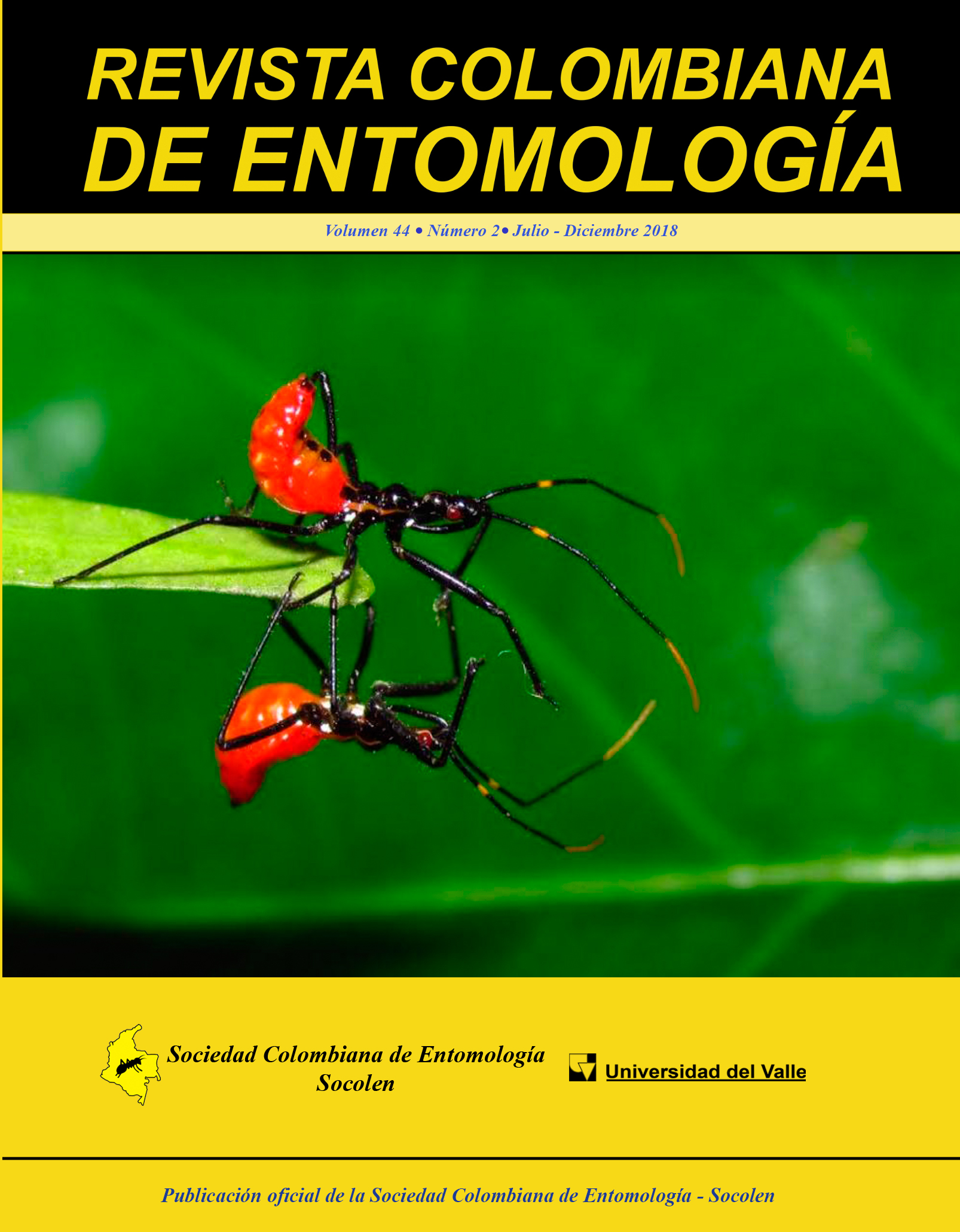 | 269 |
How to Cite
Jaramillo-Barrios, C., Rodríguez, A., Varón-Devia, E., Monje-Andrade, B., & Ebratt-Ravelo, E. (2018). Preferences of thrips (Thysanoptera) for the aerial structures of cotton plants (Gossypium hirsutum) in Colombia. Revista Colombiana De Entomología, 44(2), 151-157. https://doi.org/10.25100/socolen.v44i2.7310
Section
Agriculture / Research paper
The copyright of the Revista Colombiana de Entomología belongs to the Sociedad Colombiana de Entomología. The Society does not take responsibility or liability for any idea expressed by the authors. No publication, national or foreign, may reproduce or translate the articles or summaries, without the written permission of the publisher. Anyone interested in a free copy of a paper can download it directly from the journal website, request it directly from the author whose address appears on the first page of the article or asking for it to revista.entomologia@univalle.edu.co.